EMG Equipment
EMG Equipment - New EMG Medical Equipment, Electromyograph / NCV Diagnostic Testing
Devices from Applied Neuro Tech & others, Available Now from EMG Equipment.Com!
The TeleEMG Focus EMG Machine Starter Package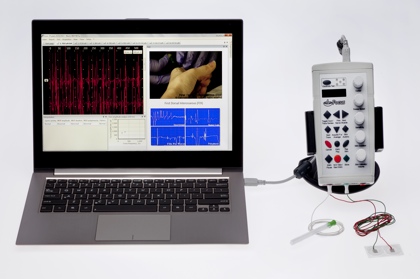 Your EMG Starter Package Includes:
Handheld Focus EMG Machine

FDA 510(k) approved as a two channel EMG machine (K102610)

Two day EMG Training Included!

Included two day hands-on training with one of our technicians. You may also purchase any additional training sessions that your clinic needs.

Ample Electrodes, DVDs, Training Manuals

You'll have plenty of supplies to get you started including surface & Needle Electrodes, instructional DVDs for both NCV and EMG testing. Also included are manuals, posters, gel, and rulers.

NEW! CloudEMG Integration

Access your EMG study results instantly in the cloud from your (included) iPad Mini or any other internet connected device with our state of the art software analysis and visualization tools.

Facetime© Support through iPad Mini

An iPad Mini loaded with FaceTime is the next best thing to having an EMG tech present in your office whenever you need support or have questions regarding your device or performing NCV/EMG tests.
---
---
For more information, Discounts and availability don't hesitate to call us!
Also check out our Used EMG Equipment, EEG Equipment & Used EEG Equipment pages!

---
Neuro Medical Equipment, Inc.
4101 W. Green Oaks Blvd.
Suite 305 Unit 292
Arlington, TX 76016
1-800-323-1771
(817) 561-4542
Fax 817-483-4068

Search Engine Optimization by Arlington SEO